September Member Meeting
Villa D' Este
On Thursday, September 14th, the Floral Park Chamber held a dinner meeting at Villa D'Este.  There was alot of networking, amazing food and great company.
Thank to Villa D'Este staff for outstanding servcie.
January Luncheon at
J. Fallons
The Floral Park Chamber of Commerce Members welcomed in the New Year with our first meeting as a luncheon at J. Fallon's.
Many new members attended and a lot of networking.
Thank you Marc and Jason for a delicious lunch which all the members enjoyed!
Chamber Holiday Party
Chamber members celebrated the Holidays together Thursday, December 8th at the beautiful Floral Terrace. Music, cocktails, decorations, festive lighting and delicious hors d'oeuvres were enjoyed. Raffles raised money for the Chamber's annual student essay scholarships.
Congratulations to the lucky winners:
Ugly Sweater Contest
Shane and Ann Moynagh of Swing the Teapot and Tulip Bake Shop
50/50
Jennifer Stewart|Floral Park Trustee
Who graciously donated it back to the Chamber
Gifts were gathered for the Hance Family Foundation and Tricia's Kids.
Most importantly, feelings of togetherness, gratefulness and optimism for the New Year were in the air, and the Chamber leadership is confident that 2023 will be a great one!
Annual Tree Lighting
The Annual Tree Lighting and Holiday Festival in Floral Park was bigger and better than ever this year!  Many guests enjoyed Carolers, Holiday Music, Choruses, Dancers, and of course, Santa and the lighting of the Christmas tree in Memorial Park.
The Floral Park Chamber of Commerce and the Junior Women's Club, along with the Village Staff, the Village's Public Works and Village Police Department all organized the event.  Business Participants sold food, mulled wine, light-ups, drinks, toys, wreaths, crafts and gifts to the abundant crowd.
This successful event marks another strong comeback for the Village after limited crowds due to Covid. The Chamber looks forward to continuing the momentum with another great Holiday Festival next year.
November Breakfast at Bridge Community Church
On, Thursday, November 3rd, the Chamber held a networking breakfast meeting at Bridge Community Church.  thank you to Bridge and Floral Park Diner for providing the venue and breakfast.  it was well attended with many old and new faces.  Business doing Business together!
Our Guest Speaker, Eric Alexander, Vision Long Island, spoke about the NY Seed Grant for small businesses.  If you are a business that started up in September 2018 to present, you many be qualified.  Please visit nyseedgrant.com for further details.  You can also reach out to Eric at ea@visionlognisland.org.
The Village Superintendent of Buildings, Renee Marcus, spoke about Downtown Revitalization Grant. The Building Dept will be forwarding an email with details.  As a Community, we need to come together and help keep our Community Safe and Clean.
Thank you to everyone who attended.
2022 Floral Park Chamber Business Person of the Year
Chamber Board Member and Past-President, Mike Jakob of Carriage Trade Insurance,
was awarded the Business Person of the Year for 2022 by the Floral Park Chamber of Commerce. Mike is an extremely active member of the Chamber and Community.
The presentation was made on October 28th at the Nassau Council Chambers of Commerce annual legislative breakfast at the Crest Hollow Country Club.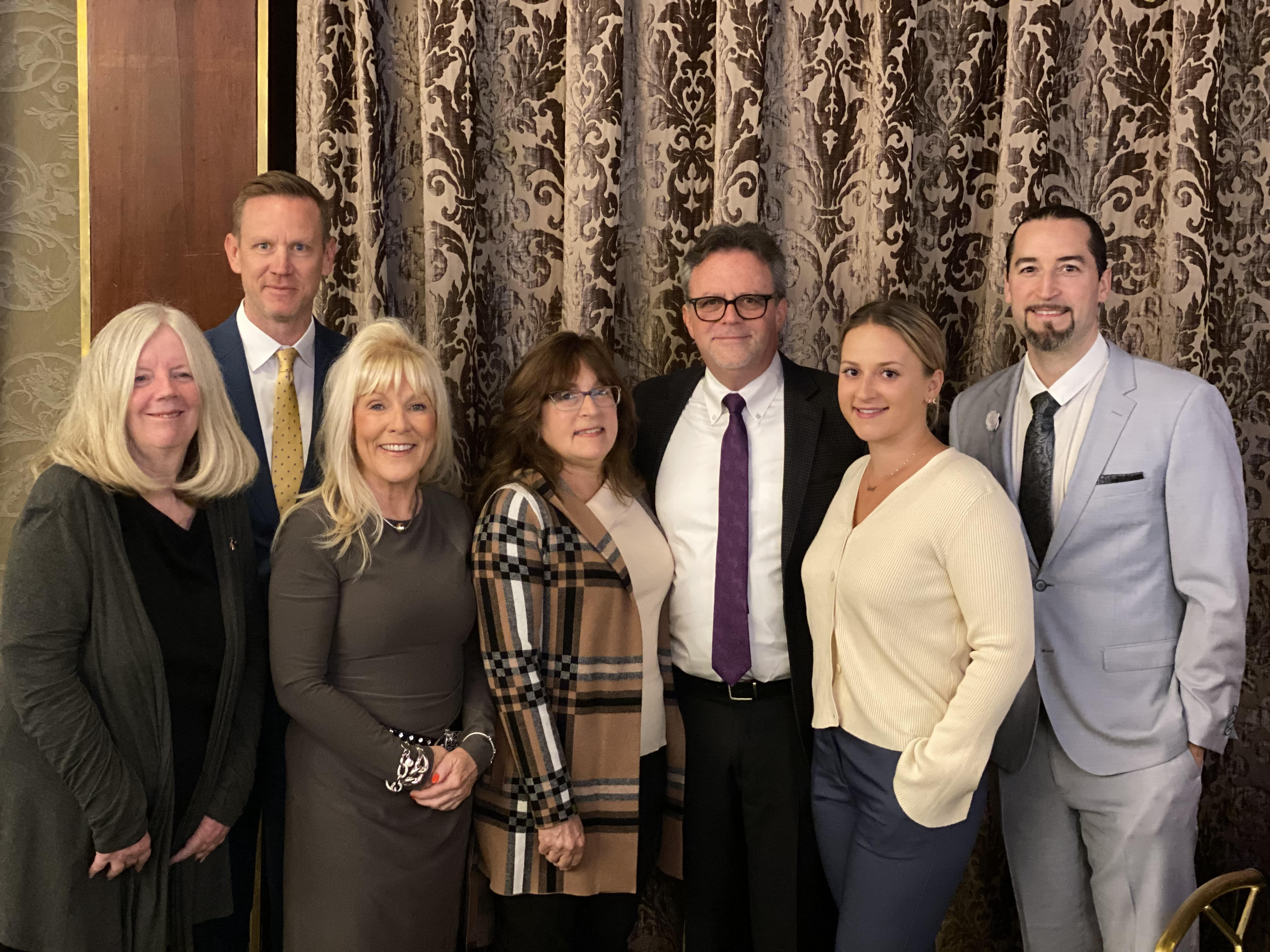 September Lunch Meeting
UpTown Taco
On Tuesday, September 8th, The Chamber held a luncheon meeting at Uptown Taco and boy what an amazing meeting it was.  There was over 30 businesses old and new joined us for lunch.  It has been a long time since we met and great to be networking agian. Thank you to Billy and staff for going above and beyond with amazing food and service.
Save the Date for our next meeting:
Thursday, October 6th, Venue TBD.
If you would like to host a meeting, please reach out to info@floralparkchamber.org
 Floral Park Chamber in the News
If you would like to join the Board, please reach out to info@floralparkchamber.org