Member Meetings, Professional Development, and More!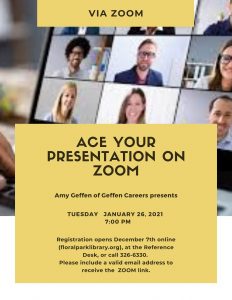 Ace Your Presentation
Amy Geffen, President and Chief Career Coach of Geffen Careers, shows you how to ace your ZOOM presentations. Even if you're already presentling on the platform, there's always something new to learn. And, if you're thinking of offering your own ZOOM programs, this is a great place to get started.
Registration opens December 7th online (floralparklibrary.org), at the Reference Desk, or call 326-6330.
Be sure to include a valid email address to receive the ZOOM link.
Learn More